You may already know Linguini.eu, the website where we blogged all about our previous boat and our travels with it. At some point, the desire grew for time off, a journey where we don't have to follow the clock and calendar, enjoyment from the first moment.
It was clear that it would be difficult to do this on Linguini. It's too small, or we're getting too old, or better yet, too stiff. So we needed a new boat and a plan for how to make our wishes come true. But one thing was quickly clear, the name of our future boat. Colette!
Colette is Linguini's love in the film Ratatouille. And what could be more fitting than ….
"SY-COLETTE"
But we are still a little way from that.
It must have been about 12 years ago when we received an invitation to sail on the Wylde Swan for the Kieler Woche sailing parade. Better said, my wife was invited and I was allowed to come along. Coincidentally, I had a company event the day before, also in Kiel and also on a boat. On the Santa Barbara Anna, Joey Kelly's sailboat.
The "Wylde Swan"
The day on the Wylde Swan left a lasting impression on me and certainly on my wife. It was so beautiful, so incredibly fulfilling, the seed for what was now to grow was planted.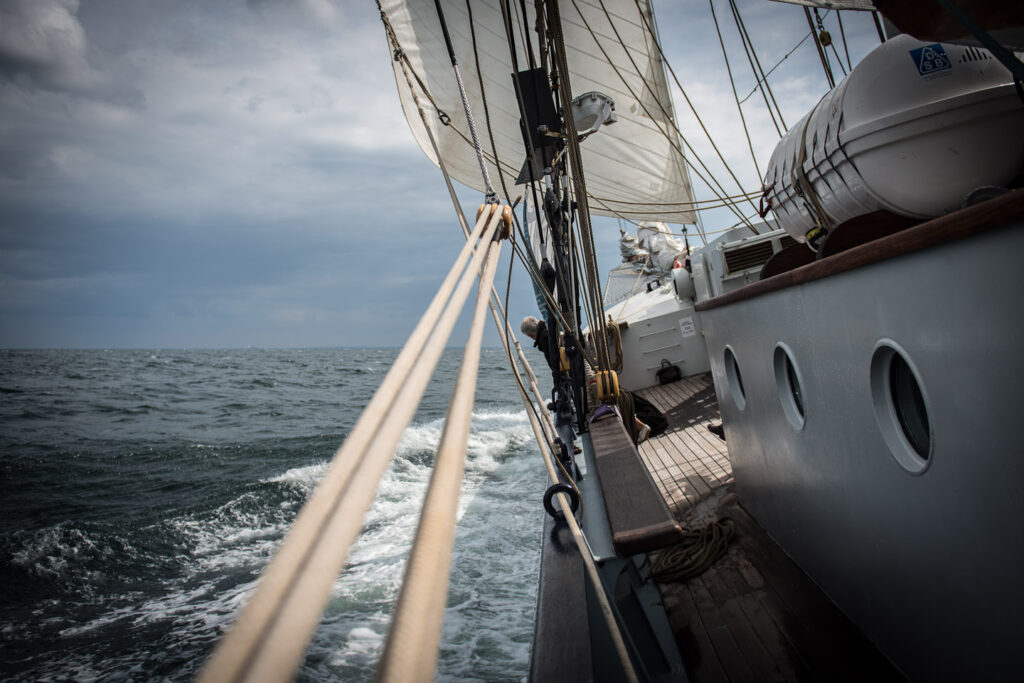 Back home, I became interested in sailboats. I read all kinds of stories, articles on the Internet and also the one or other book. The plant continued to grow and I am quite digital in such things, I want to try it out.
In addition, it must be said, I have worked after my school days and the study to the sound technician, 2 years in a Robinson club. Half a year as a sound engineer, in which the windsurfing passion has grabbed me and I was more on the board than behind the mixing desk to find. It was clear, in the winter break I do everything necessary to work as a surf instructor in the next season. It worked out.
470
and so it didn't take long and I knew I had to get a sailboat. Ignorant and inexperienced, a classified ad convinced me. A 470!
And what could be more natural than to name our first boat Wylde Swan. The Wylde Swan was old and there was a lot to do before we could set sail for the first time. Some work with fiberglass and epoxy was quite simple, as I had done this intensively during my time with surfboards. I even built a surfboard myself once. Well, you could surf it but it wasn't a hit.
After all the work, the approval of the trailer and a lot of reading, there was only one thing missing. A berth on a body of water.
The Lake Breitenau
This is a small lake that you can easily swim through without being an experienced athlete. I thought to myself, this is just the right place to start. No sooner said than done and we had a pitch for small money at the lake. On the trailer to the slip ramp and there she is now in the water, our Wylde Swan.
Now a 470 is not exactly a comfortable leisure boat but wants to be sailed very actively. So we went up and sailed the first round on Lake Breitenau. Went quite well and herjeh, with some wind you can drive every 2 minutes a maneuver, because you arrived at the other shore. And so we perfected the jibing and tacking. For this you have to know, I had known sailing only from books. Everything I knew, I just knew from the books and my time as a surfer. That was enough for me for now!
There are so many really good books that teach you about sailing. If you are self-taught anyway, you can really implement a lot of it on the water.
Sailing is simple and there is nothing difficult about it per se. At least on our small lake.
It quickly became too small for us and we started looking for a bigger lake.
The great Lake Brombachsee
The best alternative seemed to be the Großer Brombachsee. 1.5 hours drive away, big enough and there were land and water moorings.
Now we had a bigger area where we couldn't easily swim back to shore. The Wylde Swan was still 4.7 meters long and prone to capsize in a decent wind. We had never used the headsail system as it would make sense, we are not teenagers anymore. Well then just a new bigger boat.
The "Wilde Ente"
The Wylde Swan was sold very quickly. I had also prepared her quite neatly. The proceeds were not enough for a new boat but at least I had not put on it.
The search for a new boat turned out to be quite simple. The right size for the lake is somewhere between 18 and 26 feet. It should be livable enough to be out for 1-2 weeks at a time and the boat has to be beautiful. Aesthetics play a big role for me. I want to see the boat and the lines have to turn me on. And so the boat was found faster than we thought.
An Etap 21i.
I won't write much about it now, our Wilde Ente had its own website and the summarized blogs about it are still available at www.etap21i.de in PDF format. Spoiler: You will land at the Linguini Page (more later).

We had a hell of a time with and on the Wilde Ente. More to read under the above link!
And so we sailed in Venice and many nautical miles on the Great Brombach Lake.
In that time I modified a lot of things and the Wild Duck shone in the most beautiful splendor, until we decided to replace it with a new boat.
But why that? Well, the Etap was great, a really great boat but just too slow. And one thing I knew at that time, if sailing then fast.
Linguini
What a name for a boat! Most people associate it with a noodle. But the "i" at the end is not correct for a noodle. The pasta is called linguine, also in the plural. Linguini is the aspiring top chef from the movie Ratatouille. I have already explained this at the top.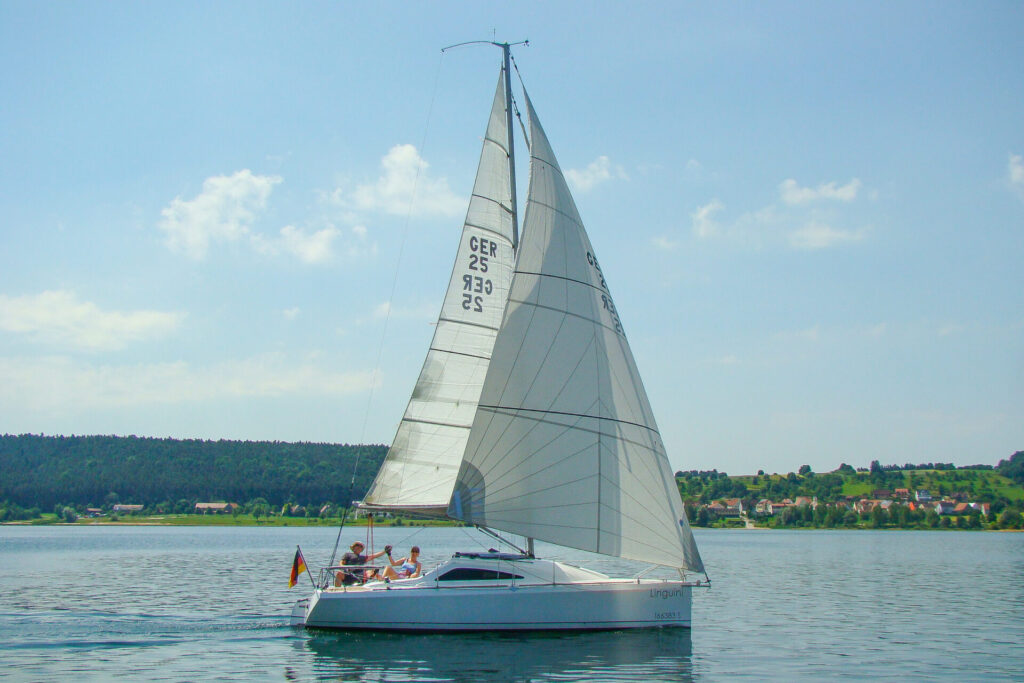 Everything about Linguini can be found at www. linguini.eu.
And now? We sail on the lake, had so far realtiv much bad luck with trailer trips with Linguini and the sailing area has become a bit boring after so many years.
We are not that far away from retirement but still far enough to make big plans. And one of the plans is to have a boat with which we can explore the oceans, live on it for a few years and enjoy.
The only thing that is already fixed is the name…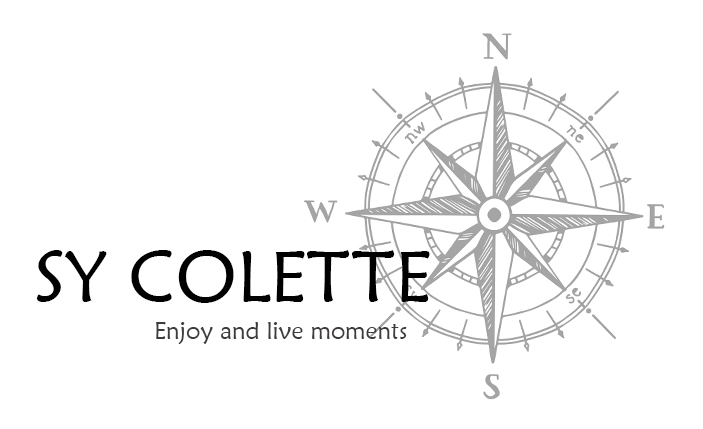 Posted from Germany: